The Aeolian archipelago consists of seven islands situated along Sicily's north-east coast.
They are all of volcanic origin; signs of the volcanic activity being, besides the active volcano of Stromboli and the fumaroles of the island of Vulcano, the underwater hot water springs and the natural mud pool.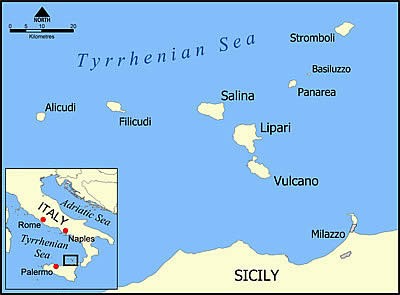 The Aeolian Islands, thanks to its favorable geographic position, enjoy a typically Mediterranean climate. The average temperature varies from 10°C in winter to 20-21°C in spring and autumn, while during the summer the thermometer shows temperatures between 27-38°C. Rainfall is scarce, especially in summer.
The tour by sea offers the possibility to admire landscapes formed over thousands of years and interesting scenery, deep caves, high coasts, wide bay, cliffs…
There are seven islands in this volcanic archipelago: Lipari, Vulcano, Salina, Panarea, Stromboli, Alicudi and Filicudi, each offering its own distinct atmosphere, sense of hospitality and charm.
Administratively all the islands belong to the Lipari Commune, except for Salina island divided into three own Communes.